Dr. Adrian Gibbs
Rheumatology
Specialities
Inflammatory arthritis
Joint and Soft Tissue Injections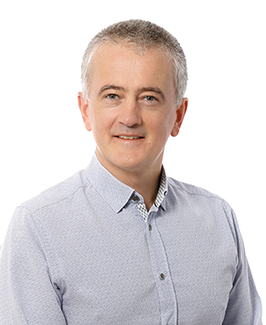 Contact details
Locations
Galway Clinic, Suite 19 |
Monday, Tuesday, Thursday AM & PM; Wednesday & Friday AM
View Bio
Consultant Rheumatologist with a special interest in inflammatory arthritis, fibromyalgia and soft tissue injuries
Dr. Gibbs studied medicine at University College Galway from 1991-1997.
His principal areas of clinical research were in the fields of rheumatoid arthritis, psoriatic arthritis and osteoarthritis. He has authored and co-authored multiple peer-reviewed journal articles. He been involved in multiple national and international clinical trials and has presented his research at rheumatology conferences both here in Ireland and internationally.
Postgraduate training carried out initially via a University Hospital Galway training scheme covering his intern and SHO years. On completion of his MRCPI he spent a year as a registrar in rheumatology in Beaumont Hospital. Thereafter he attained a place on the Specialist Registrar Scheme in Rheumatology. He carried out this scheme in Galway University Hospital, Letterkenny General Hospital and St. Vincent's University Hospital which also included three years of full-time clinical research. On completion of the Specialist Registrar Scheme he commenced working in full-time private practice as a Consultant Rheumatologist in the Galway Clinic in January 2007.