Dr. Gillian Fortune
Psychology
Specialities
Paediatric Neuropsychology
Adult Neuropsychology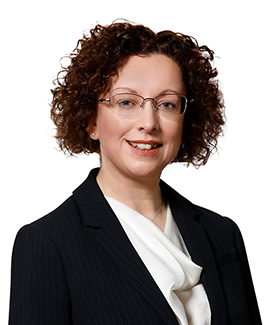 Contact details
Locations
Blackrock Clinic, Suite 13 |
Thursday
View Bio
Dr Fortune has over 20 years of clinical experience working as a Clinical Neuropsychologist in Paediatric and Adult Neuroscience centres of excellence including the John Radcliffe in Oxford (2002, 2007) and Beaumont Hospital (2007, 2013). She also held the leadership position of Head of Psychology for the Childrens Hospital, Crumlin, from 2013 / 2022. Dr Fortune has extensive experience of working with Neurology, Neurosurgery and Neuropsychiatry patients with a wide range of neurodevelopmental and neurological conditions throughout the lifespan. Dr Fortune provides a specialised Paediatric and Adult Clinical Neuropsychology service for patients with neurodevelopmental conditions, neurological conditions, neurosurgical patients, and patients with cognitive dysfunction following a range of medical conditions. She also has a special interest in medically unexplained symptoms and functional neurological illness including non-epileptic seizures. Dr Fortune provides a comprehensive neuropsychological assessment and neuro-therapeutic service for paediatric and adult patients. Dr Fortune has extensive experience of interdisciplinary working and liaison with medical colleagues, education, and social services. She also has extensive experience of medico-legal assessment and provision of expert testimony in court. She has a particular interest in epilepsy, concussion, head injury, acquired brain injury and in the diagnosis and management of ADHD, learning difficulties and memory problems.
Dr Fortune completed an undergraduate Psychology degree with first class honours followed by a Doctorate in Clinical Psychology with The University of Manchester. She completed the Postgraduate Diploma in Applied Clinical Neuropsychology in Kings College London followed by the Qualification in Paediatric Clinical Neuropsychology while working at the John Radcliffe in Oxford.
Dr Fortune is actively involved in several research studies in collaboration with colleagues in Neuroscience in Ireland and the United Kingdom. She is the author of a wide range of publications in clinical neuropsychology and regularly presents at international conferences. Dr Fortune is also an Adjunct Assistant Professor with University College Dublin and participates in teaching in clinical neuropsychology nationally and internationally.
Dr Fortune was the first to graduate with the new Practitioner Full Membership Qualification in Paediatric Clinical Neuropsychology from the Division of Neuropsychology of the British Psychological Society and is uniquely dual qualified in Paediatric and Adult Clinical Neuropsychology.