Dr. Iram Basit
Gynaecology
Specialities
Postmenopausal Bleeding & HRT
Menstrual Disorder
Pelvic pain
Endometriosis
Ovarian cysts
PCOS
Vaginal Prolapse
Pelvic floor reconstruction
Vaginal Hysterectomy
Diagnostic and Operative Hysteroscopy
Diagnostic and Operative Laparoscopy
Laparoscopic Hysterectomy
Fibroid management
TCRF
Open Myomectomy
Fertility Investigations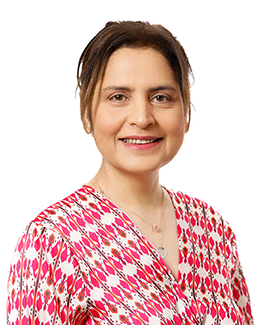 Contact details
Locations
Hermitage Clinic, Suite 39 |
Monday & Tuesday
View Bio
After completion of specialist training in Ireland, Dr. Basit started working as a Consultant Gynaecologist in Dublin. She has been a Gynaecologist for the past 10 years and has worked as a lead Clinician in the Outpatient Hysteroscopy Clinic in The Coombe Women's and Infants University Hospital. Dr Basit is trained in hysteroscopic procedures and laparoscopic surgeries and is accredited in performing gynaecology scans.
Specialist training completion in Dublin, 2013 
MRCOG 2006. MRCPI 2006, FRCOG 2019
MSc. in Obstetric Ultrasound UCD 2017
Diploma in Healthcare and Risk management UCD 2018
"Mode of conception of Triplets and Higher order Multiple pregnancies in Dublin. A ten year review."
Irish Congress of Obstetrics, Gynaecology and Perinatal Medicine, IFS session, Survey of their knowledge of pregnant women regarding Toxoplasmosis, Cytomegalovirus and Listeriosis.
Jacqueline Horgan Bronze medal prize in Epidemiology, Royal Academy of Medicine in Ireland. 11/11/2010,
SPR training in Dublin Maternity Hospital.