Dr. Ronan Browne
Radiology
Specialities
Urological Imaging and Intervention
Gynaecological Imaging and Intervention
Pancreaticobiliary Imaging and Intervention
Interventional Radiology
Musculoskeletal MRI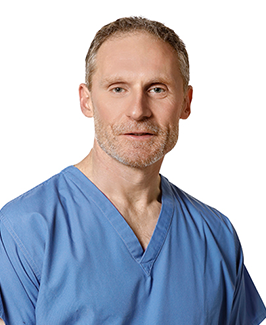 Contact details
Locations
Blackrock Clinic, Radiology Dept |
Friday
Hermitage Clinic, Radiology Dept
View Bio
Ronan is a graduate of Trinity College Dublin in 1995. After completing an MSc in Diagnostic Imaging at Oxford University, he completed his specialist registrar training in Radiology between Tallaght Hospital and St James' Hospital, Dublin. He then undertook two fellowships in Vancouver specialising in gastroabdominal and genitourinary imaging and intervention, and vascular intervention. He was appointed as consultant in Tallaght Hospital in 2004. He is currently clinical lecturer in TCD and holds European Board Certification in Interventional Radiology. Specialist interests include all aspects of interventional radiology, gynaecology imaging, pancreaticobiliary imaging and urological imaging.
MB BCh BAO Trinity College Dublin 1995. MSc Diagnostic Imaging Oxford University 1997. Fellow Faculty of Radiology Royal College of Surgeons in Ireland 2002. Diploma Medical Management RCSI 2003. European Board of Interventional Radiology 2010.
Ronan has authored or coauthored over 30 peer reviewed publications including invited contributions and book chapters. He has also extensively presented research at national and international professional society meetings.
Clinical Fellow Gastroabdominal and Genitourinary Imaging and Intervention Vancouver General Hospital 2003-2004. Clinical Fellow Vascular Intervention Vancouver General Hospital/University of British Columbia 2004-2005.