Dr. Siun Murphy
Plastic, Reconstructive & Aesthetic Surgery
Specialities
Plastic Surgery
Reconstructive & Aesthetic Surgery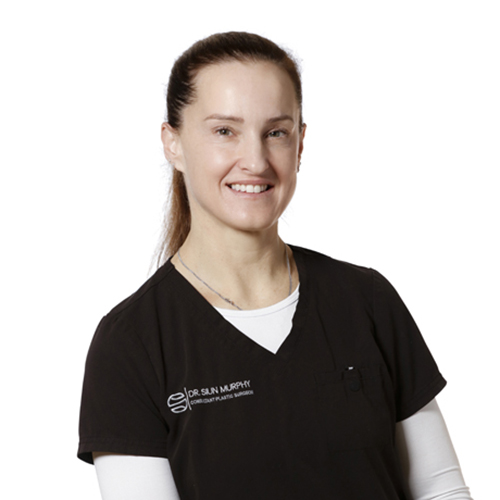 Contact details
Locations
Blackrock Clinic, Suite 35 |
Alternate Monday, Wednesday all day, alternate Friday
View Bio
Dr Siún Murphy practices in plastic reconstructive and aesthetic surgery, with a special interest in: aesthetic surgery; aesthetic breast surgery; non-surgical rejuvenation. She qualified from Trinity College, Dublin in 1999 with honours in surgery. After completing her internship in Tallaght Hospital, she completed the Basic Surgical Training (RCSI BST) in 2002 and pursued a career in plastic surgery. She completed her first post as a Senior House Officer in St James's Hospital / Crumlin and went on to complete a Masters Degree and Thesis through Trinity College while in Vancouver, Canada, studying neovascularisation (formation of new blood vessels) in the British Columbia Cancer Research centre.
Dr Murphy was awarded the Postgraduate Edward Hallaran Bennett Medal and fellowship awarded by Trinity College, Dublin. In 2005 she was appointed to the Higher Training Programme in Plastic Surgery (RCSI). At the end of the training she completed the FRCS (Plast) examination (Intercollegiate Examination). Siún then moved to Sydney, Australia and completed a Fellowship in Cosmetic and Plastic surgery through Maquarie University Hospital. She has a particular interest in the field of aesthetic plastic surgery having pursued this area at fellowship. Siún also holds an appointment as Locum Plastic and Reconstructive Surgeon at the Mater Misericordiae Hospital in Dublin. She has a strong academic interest and has published extensively and presented her work at both national and international levels. Siún is a full member of the Irish Association of Plastic Surgeons.BA MB BAO BCh: Bachelors Degree in Arts, Degree of Medicine and Surgery, Trinity College 1999. MRCSI: Associate Fellowship of the Royal College of Surgeons in Ireland 2002. Dip Med Mgt: Diploma in Medicine Management (Institute of Public Administration and RCSI) 2008. MD: Post graduate Doctorate of Medicine, Trinity College (through UBC, Vancouver, Canada) 2006. FRCS (Plast): Intercollegiate Speciality Examination in Plastic Surgery) 2012.
Breast surgery; patient satisfaction and outcomes; Neovascularisation.
Sir Edward Hallaran Bennett Medal in Surgery, Trinity College, Dublin 2003/ 2004. Postdoctoral Research Fellowship, University of British Columbia, Vancouver, Trinity Travelling Scholarship 2012/ 2013. Fellowship in Cosmetic and Plastic Surgery, Macquarie University Hospital, Sydney, Australia 2012/ 2013. Shepherd Memorial Prize 2013 (TCD). Current membership: IAPS; ASAPS; ASPS; RCSI.