Mr. David Beddy
General surgery
Specialities
Endoscopy
Hernia Surgery
Gallbladder Surgery
Haemorrhoids
Colorectal cancer
IBD
Minor procedures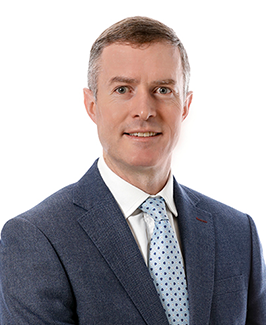 Contact details
Locations
Hermitage Clinic, Suite 25 |
Tuesday & Thursday AM
View Bio
Mr. Beddy is a Consultant General and Colorectal Surgeon and senior lecturer in surgery, RCSI. He is based at Hermitage Clinic, Connolly Hospital and Beaumont Hospital. He has a special interest in all aspects of colorectal surgery including colon and rectal cancer, inflammatory bowel disease, rectal prolapse and anorectal conditions (haemorrhoids, fissure, fistula). He provides rapid direct access for expert endoscopy including gastroscopy and colonoscopy. He also specialises in laparoscopic/minimally invasive hernia and gallbladder surgery.
Mr. Beddy is honours graduate of UCD 1998 receiving the Gold Medal in Surgery. His surgical training was completed in Ireland where he was awarded the Association of Surgeons Great Britain & Ireland Gold Medal in 2008 for 1st place in the Intercollegiate Exam.
He has a higher diploma in Medical Education and Healthcare Management. He is actively involved in surgical education and is an Honorary Senior Lecturer at the RCSI. He is currently the Programme Director for surgical training in Connolly Hospital Blanchardstown where he was associate clinical director for the Division of Surgery from 2018-2020.
Mr. Beddy has published multiple peer reviewed papers, abstracts, and book chapters in the field of colorectal surgery, general surgery, endoscopy and patient safety. He was awarded a Doctorate of Medicine MD in 2003 for research into Crohn's disease. His research was awarded the Presidents Prize RCSI 2003 and a RAMI Medal 2002.
International fellowship training for 1-year at the world-renowned Mayo Clinic, Rochester, Minnesota, USA focusing on colorectal cancer and inflammatory bowel disease including laparoscopic and robotic techniques. Mr. Beddy was the recipient of the RCSI Surgical Travelling bursary for his fellowship at the Mayo Clinic. A further 1-year fellowship St Mary's Hospital, London again focused on colorectal surgery.