Mr. M. Ben Husien
Neurosurgery
Specialities
Degenerative Spinal Conditions
Cervical & Lumbar Discs
Spinal Tumours
microscopic spinal surgery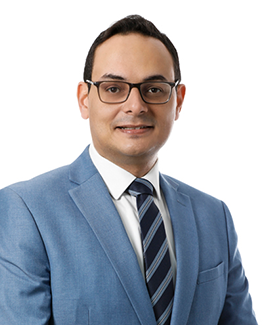 Contact details
Locations
Hermitage Clinic, Suite 18
View Bio
Specialty interests include: degenerative conditions of the spine, cervical, thoracic and lumbar disc prolapse, vertebral spinal tumours, spinal cord tumours, nerve sheath tumours, spinal reconstruction, cranio-cervical junction surgery, spinal trauma, minimally invasive and microscopic spinal surgery, navigation spinal surgery.
Brain Surgery: Brain tumours, Hydrocephalus, traumatic injury, Chiari malformation.
Mr. Ben Husien is a consultant Neurosurgeon and Spinal Surgeon, who completed surgical training in neurosurgery and spinal surgery at the College of Medicine of South Africa and Royal College of Surgeons in Ireland.. He is currently working as a Neurosurgeon and spinal surgeon consultant at Beaumont hospital, Dublin, Ireland
He is Honorary Clinical Senior lecturer at the Royal College of Surgeons Ireland. He was awarded two masters degrees: MMed Neurosurgery and MSc in clinical Neuroscience (Distinction).
He has completed multiple international and national presentations, written book chapters, published articles in peer reviewed journals and peer reviewer for many spinal Journals.
He completed two advanced spinal fellowships: the first one is the AO spinal combined Neurosurgical and Orthopaedic complex fellowship training in spine deformity, spine trauma and revision spinal surgery at Groote Schuur Hospital, South Africa. The second Neurosurgical spinal fellowship was in Beaumont Hospital, Royal College of Surgeons training in spinal cord tumour, nerve sheath tumours, spinal metastasis, minimally invasive spinal surgery and degenerative spine surgery