Mr. Murali K. Sayana
Orthopaedic surgery
Specialities
Total Hip Replacement
Total Knee Replacement
Uni-compartmental Knee Replacement
Knee Arthroscopy
Carpal Tunnel Release
Trigger Finger Release
Ambulatory Trauma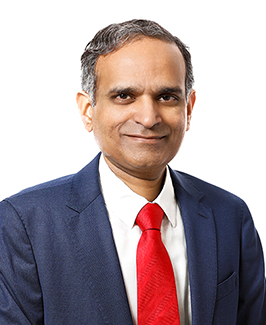 Contact details
Locations
Hermitage Clinic, Suite 37 |
Monday - Thursday - Friday
View Bio
Mr Sayana was born in the coastal town of Machilipatnam, in the state of Andhra Pradesh, India. He completed his graduation and post-gradute studies in India and moved to UK in 2000.He moved to Ireland in 2006,when he was offered a SSpR rotation on the Higher Surgical Training Scheme by the RCSI. He is now, a full-time Consultant Orthopaedic Surgeon in private practice at the Hermitage Clinic. He mainly treats and manages lower limb - hip and knee arthritis. He is a keen photographer and is currently enrolled in a part-time B.A.(photography) in Griffith College, Dublin. He has completed his WSET level-2 certification in Bordeaux and looks forward to enjoying his time as a restauranter in the near future.
Mr Sayana graduated in Medicine and completed his postgraduate training in Orthopaedics from Osmania Medical College,Hyderabad, India. He spent several years working in the NHS, UK,including a year as an ˜Implant Research Fellow" in Stoke-on- Trent under the guidance of Mr. Charles Wynn-Jones and Prof. Nicola Maffulli. He moved to Ireland in 2006 and completed a ˜Higher Surgical Training in Trauma & Orthopaedics under the auspices of IITOS, RCSI, Dublin.
Mr Sayana completed Clinical research in Achilles Tendinopathy and Tapered polished femoral stems in Stoke-on-Trent as an Implant Research Fellow. He has been published in Orthopaedic journals and presented at numerous International meetings including AAOS. He reviews manuscripts for the following Journals upon receiving a request from the editors: CORR (Clinical Orthopaedics & Related Research), EJOS (European Journal of Orthopaedic Surgery), IJMS (Irish Journal of Medical Sciences). He has more than 20 peer-reviewed Scientific Publications in various journals & authored 8 chapters in different textbooks.
Mr Sayana had the honour of being the Irish Orthopaedic Association's representative for the EFORT's travelling fellowship in 2011 to Royal National Orthopaedic Hospital, Stanmore. He was the post-CCST fellow to Mr Andrew Thomas in Royal Orthopaedic Hospital, Woodlands, Birmingham, UK. He was trained in managing the hip and knee replacement surgeries. He has MDT clinics with Rheumatologists and a large referral base and practice for hip and knee problems. He completed his fellowship in July 2013 and started his substantative Consultant job in the Northeast from August 2013, which I relinquished in 2022.