Mr. Odhran Murray
Orthopaedic surgery
Specialities
Disc Herniation
Spinal Degenerative Disease
Tumours
Trauma
Adult Spinal Deformity
Minimally Invasive Spinal Surgeon
Minimising Tissue Trauma
Postoperative Pain
Rapid Post-Operative Recovery and Rehabilitation
Microdiscectomy
Lumbar Decompression
Posterior Lumbar Decompression and Fusion
ACDF
Posterior Cervical Decompression and Fusion
Thoracolumbar Fixation
XLIF
ALIF
Intraoperative Regional Anaesthesia
Coccyx Injection
Nerve Root Blocks
Kyphoplasty & Vertebroplasty
Radiofrequency Ablation of Spinal Metastases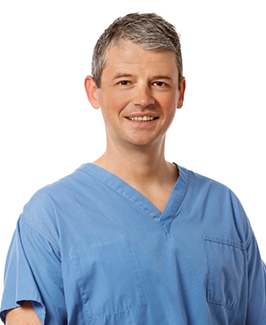 Contact details
Locations
Galway Clinic, Suite 17 |
Monday & Friday all day
View Bio
Mr. Murray is a fellowship trained, highly experienced consultant orthopaedic spinal surgeon working full time at Blackrock Health Galway Clinic. Mr. Murray provides regular clinic and theatre sessions at the Galway Clinic. He treats a wide variety of conditions of the spine from the neck to the low back. Mr Murray's ethos is to enhance each patient's journey and experience by shared care and decision making, non-operative spinal care, minimally invasive spinal surgery and novel surgeon delivered pain control techniques and rapid rehabilitation.
Following completion of higher surgical training in Trauma and Orthopaedics in the West of Scotland, Mr. Murray embarked on international spinal fellowships. On completion of higher surgical training and advanced fellowships, Mr. Murray returned to Glasgow to take up a consultant post in Trauma and Orthopaedic Spinal Surgery at the Queen Elizabeth Hospital, Glasgow, Scotland for five years. In January 2020, Mr. Murray returned home to Ireland and was appointed as a consultant in Trauma and Orthopaedics with a specialist interest in Spinal Surgery at University Hospital Galway / Merlin Park University Hospital. Mr. Murray is on the specialist registrar of both the Irish Medical Council and British Medical Council. Mr. Murray maintains an extremely active interest in research, teaching and improving patient care, with numerous peer-reviewed publications and book chapters. Throughout his career, Mr. Murray has received an assortment of wards for his research and dedication to quality improvement. Current research highlights include 'improving patient reported experience measures' and developing 'novel techniques in surgeon delivered pain control', enhancing the patient journey from first visit to post-surgical pain control and enhanced rehabilitation.
Mr. Murray completed his first fellowship in University Hospital Galway/ Merlin Park University Hospital Galway before taking up the National Spinal Fellowship in Leeds General Hospital, England. During this prestigious fellowship programme, Mr. Murray was exposed to a wide variety and high volume of complex spinal surgical procedures as well as state of the art technology.