Prof. Karen Redmond
Cardiothoracic surgery
Specialities
Extended airway or chest wall resections
Thoracic surgery for inoperable lung cancer down staged with neoadjuvant treatment and sleeve resections
VATS or robotic surgery for pneumothorax
Pleural or pericardial effusion
Diagnostic biopsy
Lung cancer and lung volume reduction surgery
Lung Screening for Cancer
COPD and Pulmonary Fibrosis
Endobronchial valve insertion for lung volume reduction to treat patients with end stage emphysema
COPD & pulmonary fibrosis
Thorascopic left atrial clip application for patients with atrial fibrillation
Convergence hybrid surgery for patients with drug and catheter ablation resistant atrial fibrillation
Complex airway surgery with stent insertion for severe Tracheobronchmalacia
NUSS
PectusUp
AnatomikModleling Implant and Brace treatment to repair chest wall for Pectus Excavatum
Pectus Carinatum
Poland Syndrome and Rib Flare conditions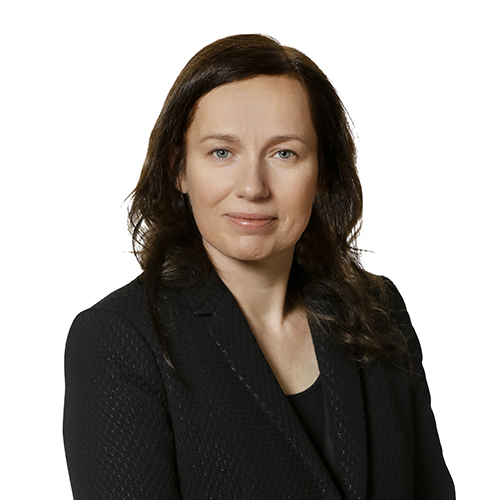 Locations
Blackrock Clinic, Suite 21 |
Thursday & Friday AM
View Bio
Professor Redmond specialises in the surgical management of patients with lung cancer, end-stage lung disease (emphysema and pulmonary fibrosis) and a range of other prevalent conditions including complex airway and pectus conditions. She has specialist expertise in minmally-invasive procedures including iVATS directed excision of pulmonary nodules and robotic surgery. Please follow the above links to both her website for her most recently published paper and her LungCheck and PectusCheck screening service to learn more.
She was awarded an honours degree with Gold Medal in Surgery from University College Dublin in 1997. Following a Young Investigators Award for supervised research in lung cancer from the European Association of Cardio-thoracic Surgery, she went on to win the prestigious Society Medal from the Society for Cardiothoracic Surgery in Great Britain and Ireland for her MD work in the "Role of Human Stem Cells in Tumor Angiogenesis". After completing her specialist training in cardio-thoracic surgery in June 2007, Professor Redmond was awarded a United States Minimally Invasive Lung Cancer Surgery Scholarship and trained in her subspecialty field of thoracic surgery and lung transplantation at Toronto General Hospital, Canada. There she had the opportunity to consolidate her surgical expertise in keyhole surgery for lung cancer and mesothelioma. The first female lung transplant surgeon to be appointed both in the UK and Ireland, Professor Redmond returned from her consultant post at The Royal Brompton Harefield NHS Trust and Imperial College in London in 2011.
Professor Redmond has international expertise in ex-vivo lung perfusion, being the Surgical Principal Investigator that started the UK Develop Ttial, a process that allows lungs to be reconditioned (perfused and ventilated) outside the body prior to implantation. These pioneering techniques have helped to increase the number of lung transplants and allow adult Irish patients to be treated in the Republic. She is one of the first trained robotic surgeons in the British Isles with recent published comparative meta-analyses on robotic lobotomy and thymectomy. She is one of the first trained thoracic surgeons worldwide to start an iVATS programme (CT-guided localisation in the Hybrid Theatre) resecting pulmonary nodules supporting diagnosis and/or curative resection of pulmonary metastases.