Age-related macular degeneration (AMD) affects a lot of people, especially those over 50. AMD is a problem with eyesight that can get worse over time. You might start to notice changes like blurriness, distortion, or blind spots in your central vision. It can be hard to read, drive, or recognise faces, and you might need more light to see clearly.
If you have any of these symptoms, you may be referred to a consultant ophthalmologist, who is a specialist eye doctor. They will do some tests to check the health of your eyes and diagnose if you have AMD. Treatment for AMD depends on the type and severity, but there are options available. These include injections or laser therapy, to help slow the progression of the disease and preserve your eyesight. It's important to get your eyes checked regularly, especially if you're over 50 or have a family history of AMD.
At Blackrock Health, we have earned a long-standing reputation for excellence in private medical and surgical care. This includes the diagnosis and treatment of conditions affecting the eye, ear, nose, and throat, for both adults and children Our three hospitals offer easy and speedy access to expert care in these fields. We have a renowned team of consultants, and we use the latest techniques and technologies. This means we can aim to provide you with a fast, accurate diagnoses and an effective and tailored treatment plan. We understand that experiencing problems with your eyes, ears, nose, or throat can be worrying. That is why we are committed to providing compassionate and reassuring care. Whether you need a routine check-up or a more complex procedure, we are here to help. Our team is dedicated to providing you with the highest standards of care and support - throughout your journey to better health. 
Ophthalmology is the study and treatment of eye disorders. Our ophthalmology team treats all eye conditions. Our  team will look after you throughout your diagnosis, treatment and recovery.
As a Blackrock Health patient, you'll be cared for by our team of consultant ophthalmologists and consultant ophthalmic surgeons. All our consultants offer care and expertise in their own specialties and continue to lead research in vision sciences. Many of our eye specialists also consult in major teaching hospitals.
The team includes:
Consultant ophthalmologists
Consultant ophthalmic surgeons
Ophthalmic clinical nurse specialists
Ophthalmic technicians
Optometrists
Please note that we do not offer an emergency service for eye health issues. If you have the following symptoms, you should call 112 or 999:
Sudden or severe eye pain
Loss of sight
Lots of flashing lights
Chemicals in your eye
Severe eye trauma
What is AMD?
Age-related macular degeneration (AMD) is the leading cause of sight loss in the over-55 age group. It causes a gradual loss of central (but not peripheral) vision. Central vision is required for detailed work and for things like reading and driving. Visual loss can occur within weeks, months, or over many years, depending on the type and severity of AMD. There are two types of age related macular degeneration (AMD) – 'dry' and 'wet'. 'Wet' AMD can cause acute and severe vision loss. New treatments are currently available which can prevent this in the majority of cases.
What Causes AMD?
The exact causes of AMD are still unknown, although there can be a history of the condition in some families. If close relatives have suffered with sight loss in the past then it is worth having your eyes checked regularly. Studies have shown that there is a definite link between smoking and AMD. Other factors such as high blood pressure and poor diet can also contribute to a greater risk of developing AMD.
Testing for AMD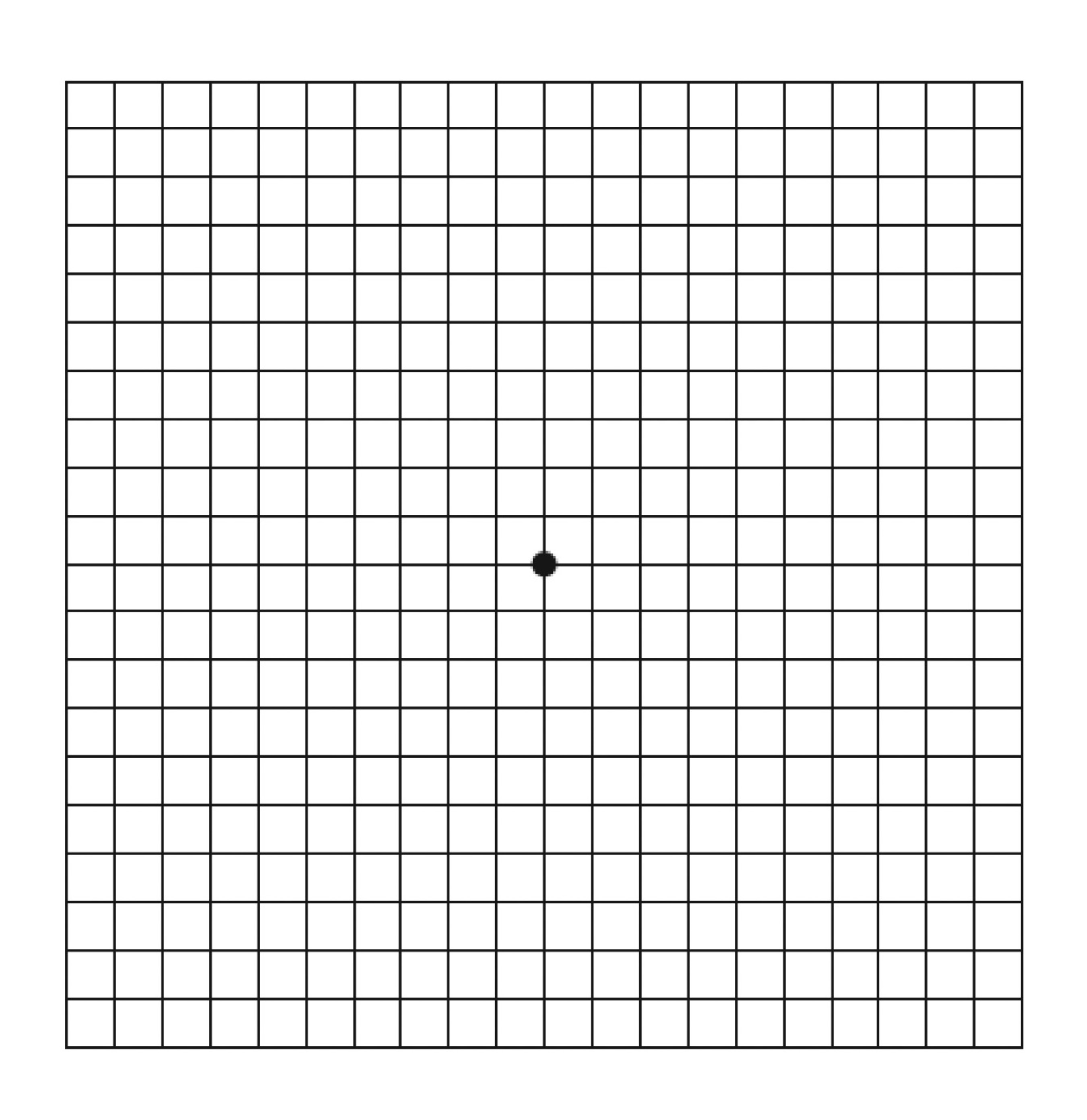 The Amsler grid is a quick and simple test that you can do to check if you are experiencing any of the early symptoms of AMD 
Look at the grid on the screen with a distance of approximately 12 inches in front of your eyes
Remove varifocals or distance glasses. However if you wear glasses for reading, leave them on.
Cover one eye with your hand and focus with your other eye on the centre dot.
Make sure you can see all four corners of the grid.
Repeat with the other eye.
If areas of the grid appear blurred, distorted or in any way abnormal then you could be displaying the early symptoms of AMD.
If you think you may have early symptoms based on this test then you should visit your doctor or optician within the next week. It is important to repeat this test every couple of months.
Please note this test does not replace an eye examination.
Treatment for AMD
There are a number of treatments for people with wet AMD. They are:
Intravitreal Injection – a relatively painless injection under local anaesthetic directly into the eye to combat wet AMD. Often a number of injections are needed to stabilise the condition. Various drugs may be used including Avastin and Lucentis.
Photodynamic Therapy – the use of photosensitive synthetic dyes with cold laser to seal new blood vessels under the retina.
Laser Photocoagulation – the use of a laser to finely cauterize the ocular blood vessels and has been proven to lower the risk of severe vision loss from these diseases.
Making an Appointment
We are aware that early diagnosis is essential and our Rapid Access Macular Degeneration Service offers speedy appointments.
It is a consultant-led service with experienced Ophthalmic consultants who specialise in Retinal Eye Health.
Appointments require a referral letter from your GP or Optician. When attending you should bring along all your glasses. Your eyes will be dilated using drops and therefore you will be unable to drive for some hours afterwards, you may need someone to accompany you home.
How do I get this?

You will need a referral letter from your GP, optician or consultant before you make an appointment.
Is this insured?

Not all services are covered by health insurance. To find out if you're covered, please check your health insurance before your visit. You can do this on our health insurance Cover Check page, or by contacting your health insurer. 
How do I pay?

If you do not have health insurance or your health plan does not cover the full cost, you will need to pay the balance due before your treatment or procedure. You may be able to claim back some fees on your insurance. To pay an excess not covered by your insurance or any other inpatient fees, please visit our payment page. If you have any queries about paying for your care, please contact the finance team in your hospital.