Ms. Ruth Delaney
Orthopaedic surgery
Specialities
Shoulder instability
Shoulder Replacements
Rotator Cuff
Shoulder Pain
Sports Injuries of the Shoulder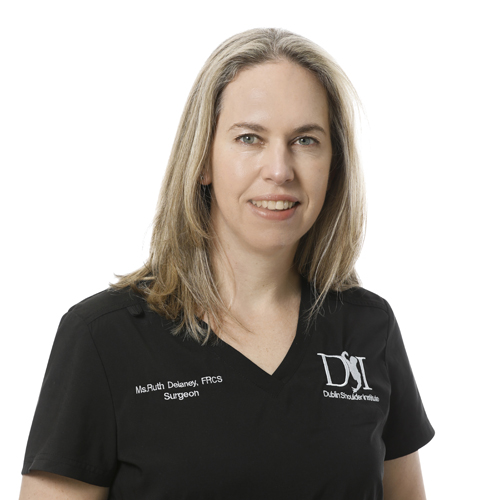 Contact details
View Bio
Ms. Ruth Delaney, FRCS is a consultant orthopaedic surgeon specialising in shoulder surgery and an Associate Clinical Professor at University College Dublin. She is a graduate of University College Cork Medical School and went on to undergo orthopaedic training on the Harvard Combined Orthopaedic Residency Program in Boston, USA. She completed shoulder fellowship at Massachusetts General Hospital and Brigham & Women's Hospital and also in Lyon and Annecy, France. She returned to Ireland in 2014 to begin her shoulder practice in Dublin and founded the Dublin Shoulder Institute in 2018. Her practice is a fully subspecialised practice, focused entirely on the shoulder. She is shoulder consultant to a professional rugby team (Munster Rugby) and takes care of many high level athletes as well as taking care of a variety of complex degenerative shoulder problems. She was the first surgeon in Ireland to perform a superior capsular reconstruction, to perform a pyrocarbon hemiarthroplasty and to use mixed reality technology for shoulder arthroplasty. She is an active researcher, and has won the prestigious Neer Award for work on shoulder instability surgery. She is a member of the American Shoulder & Elbow Surgeons (ASES) and a committee member of the European Society for Surgery of the Shoulder & Elbow (ESSSE/SECEC). She was congress president for SECEC 2022. She is a founding committee member of the Irish Shoulder & Elbow Society (ISES) and has served as the Deputy Editor for Shoulder and Elbow Research at the Journal of the American Academy of Orthopaedic Surgeons. Please see www.dublinshoulder.com for more information.
MB BCh BAO, BMedSc - University College Cork, 2006 - 1st class Honours. M.MedSc in Sports & Exercise Medicine - University College Cork 2008 - 1st class honours. Harvard Combined Orthopaedic Residency Program - graduated 2013. Harvard Shoulder Fellowship - graduation 2014. Fellowship of the Royal College of Surgeons in Trauma & Orthopaedics - 2015. 
Harvard Shoulder Fellowship under Dr. JP Warner, 2013-2014. Centre Santy, Lyon, France under Dr. Gilles Walch, 2014. Clinique Generale Annecy in Annecy, France under Dr. Laurent Lafosse, 2014.